Patio Victoria – Intramuros Garden Venue
Patio Victoria, located in Intramuros Manila has an Old World charm that can be found only within what was known during the Spanish Occupation of the Philippines as the "Walled City". Cobblestones walkways, an antique wooden gate, lush foliage and an old fashioned fountain are only some of the features that make the place perfect venue for wedding.

Patio Victoria has two gardens-named after Cristina Gonzales-Romualdez' (the owner) daughters Sofia and Diana – and an air-conditioned banquet hall. All three venues can accommodate as many as 1000 guests.
Both gardens have gazebos to protect guests against the sun and light showers. In case of heavy rains, the reception can move to the air-conditioned banquet hall. During brownouts, Patio Victoria also has generator to restore full power in less than one minute. There is also exclusive ample free parking for guests of the wedding people.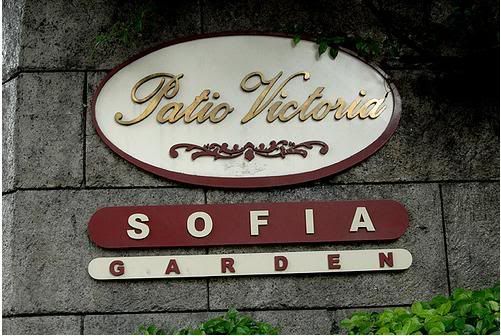 Sofia Garden:
The garden has been designed to evoke romance. It offers a special intimacy that is not present in many indoor venues. The well-tended and lush gardens are perfect venues for anyone's wedding or debut. It is perfect for people who love outdoor parties but need not worry about rain because there is a gazebo and a lot for tented areas. Request for additional tents can also be accommodated.

Diana Garden:
Wedding and another formal affairs in this garden feels different under the moon and the stars with a cool night breeze blowing. The beautiful lights with tulle give us a feeling that we are in an enchanted garden.
Patio Victoria's wedding set-up:
FOR INQUIRIES:
CONTACT PERSON: SALES & MARKETING DEPARTMENT
ADDRESS: 5435 Gen. Luna cor. Victoria Sts., Intramuros, Manila
Contact Nos.: 5236940/ 5261953/ 5278006
Mobile Nos.: 09993850065/ 09156455789/ 09216007520
Email Add: patiovictoria@gmail.com
Website: www.patiovictoria.com