Coming from a family of Caterers from Cavite, the owner-manager Engr. Alex Michael Del Rosario was exposed to this business at a very early age, a beautiful and fruitful experience which fuelled his desire to put up a catering outfit of his own.

This ambition led him to Saudi Arabia where he worked as Chief Quantity Surveyor of Al-Khodair Company. There he met the now Mrs. Teresita Macatangay del Rosario, a Batanguena and a Medical Technologist connected with the Ministry of Health, K.S.A..The unique blending of talents and ambitions gave way to the conceptualization and realization of a lifetime dream. Even at the onset of pregnancy, they made it a point to choose a name for their unborn child that will fit beautifully to the business they were contemplating thus coming up with JUAN CARLO.
They used K.S.A. as their training ground by putting up a mini-restaurant in Al-Khodair campsite and doing small catering projects for Filipinos and foreigners as well. The exotic Arabian, Egyptian, Indian, Pakistani, Palestinian and Tunisian dishes became a part of their daily lives, contributing a lot to their knowledge of international cuisine.
August 1995, the del Rosarios, fully equipped with the necessary information and capital finally came home and settle for good in Batangas – signifying the birth of Juan Carlo – The Caterer
November 11, 1995 marked the beginning of a phenomenal catering success achieved by a newcomer. In just a matter of months, he was able to conquer the whole of Batangas, even crossing borders to Cavite, Laguna, Rizal, Quezon and Metro Manila.
Aside from catering, they also ventured into corporate canteen operations. Thus having the following:
* JG SUMMIT PETROCHEMICAL PLANT CANTEEN
* UNIVERSAL ROBINA CORPORATION CANTEEN
* CALTEX BANABA CLUBHOUSE (fine dinning)
* NESTLE LIPA FACTORY CANTEEN
* SHELL REFINERY CANTEEN
Artistic presentation, aside from delicious food had been the hallmark of Juan Carlo. They set the trend in Batangas and in Metro Manila on the extensive use of props and decors in buffet set-ups and dinning area. The enthusiasm for artistry lead them to make their own floral arrangements thereby making flowers also their specialty. Special events and Wedding coordination, Program concept and design also became their expertise.
August 2002, Juan Carlo the Caterer became the first and only catering outfit in Batangas to be a member of the FOOD CATERERS ASSOCIATION OF THE PHILIPPINES. The owner / manager was even elected as one of the Board of Directors of the said organization. The ever resourceful engineer, determined to broaden his horizon, worked hard for the accreditation in the prestigious catering venues in Metro Manila. Having passed the rigid screening and evaluation, he is now an accredited caterer of Fernwood Garden, The Registry and Stonecrest. He is also holding functions in other venues like Baluarte de San Diego, Puerta Real Garden, Trellis, Orchidarium and Butterfly Pavilion, The Loft @ Rockwell, Sanctuario De San Antonio Function Hall, The New Officers Clubhouse, Ayala Westgroove Heights, La Residencia Clubhouse, Ramon Magsaysay Center, Christ the King Function Hall, Mount Carmel Social Hall, Acropolis Clubhouse, St. James the Great, Le Pavilion, Calleruega, Laguna Bel-Air Clubhouse and Ayala Greenfields Estate Clubhouse.
Truly, Juan Carlo the Caterer has gone a long way…
Reviews on Juan Carlo the Caterer:
"our guests loved the food, especially yung grilled blue marlin! one guest even said na nakakatuwa kase hindi ma-cholesterol yung food. like, yung chicken piri-piri, walang skin. we had pork (pork tenderloin with mushroom cream sauce) and beef (beef salpicao), pero yung pagkaluto, hindi ma-oil. we're both particular sa food talaga. we had 3 food tasting before we decided on the menu and since di namen masyadong gusto yung lowest package, nag-upgrade kame (pero, mga P20.00 net/person lang naman yung tinaas)." — Eric & Kaye
"Engr. Alex, the owner, is a very pleasant guy to deal with. The food was great, the staff were polite and attentive, the whole reception set-up was just amazing. There were two glitches: One, we agreed that, even for the Principal sponsors, the talbe to be used is round. I prefer round over the long table because the people sitting in that table can interact with each other
more. But, when I saw the Principal sponsors' table, there 2 long tables. I was
like "Hmmmmm….", but just decided to let it slide. Second, I wouldn't say it's a glitch, but it was something I spefically did not ask for, but was still there during the reception….the love birds. In lieu of birds, I opted for a chocolate fountain, I think. But lo and behold, there were two birds inside a bird cage,just beside the cake… I was like, once again" Hmmmm…." I have nothing against birds..but the thing is, I personally find the love birds release ceremony as "not necessary". Anyway, my mom kept the love birds at their house…so, everybody's happy" — Chris & Mai
"Just like the chocolate fountain, we were not able to taste much of the food during the reception. We only tasted the soup and the salad – and that was it. According to my dad, the soup was a little salty, but I didn't really noticed it. Some guests expressed their appreciation for the food – specially the cooked-on-the-spot Blue Marlin in Lemon Butter Sauce and the Stir Fried Mixed Vegetable in Oyster Sauce. We had 2 food tasting sessions with them prior to the wedding, and I thought the food was delicious then.
Alex was also easy to talk to and negotiate with. Since we had Balay Kandila doing the styling and the centerpieces, we were able to get some freebies from Alex like free crew meals and other stuff. He was also willing to implement some of my weird ideas like serving soup on champagne glasses during pre-dinner cocktails 🙂 He worked well with the other suppliers – giving ideas and volunteering materials that Balay could use for decorating the place.
There was basically one major glitch that prevented me from giving them a rating of 10. They failed to serve my grandmother properly – which I specifically mentioned since she was already 92 years old. I heard that she was only served soup and salad. I guess it was because it started raining outside and most of the crew had to move tables and they probably forgot about it. Some guests also started moving into the VIP tables, which probably added to the confusion. Still, hearing about it made me really sad." — Leo & Iya
Here are the sample set-up of Juan Carlo The Caterer: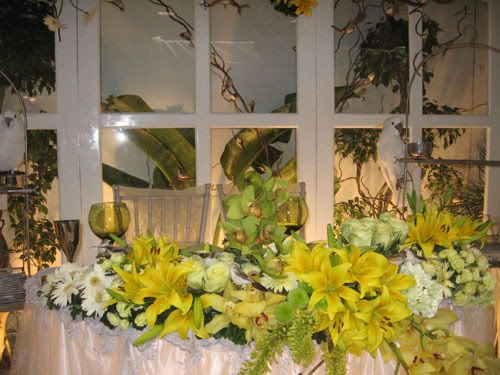 FOR INQUIRIES & RESERVATIONS:
Manila Office :
78 C Cenacle Drive Sanville Subdivision, Quezon City
Tel. # : (02) 929 – 3674 (10am to 8pm)
Fax # : (02) 453 – 0071
Mobile # : 0906 448 3295 or Sun 09334769940
Batangas Office :
S. Ylagan St., Brgy. Aplaya, Bauan, Batangas, Philippines 4201
Tel. # : (043) 727 – 3728 | (043) 727 – 3673 | (043) 727 – 3769
Fax # : (043) 727-3728
Plant Office :
S. Ylagan St., Brgy. Aplaya, Bauan, Batangas, Philippines 4201
Tel. #: (+632) 9293674
Mobile : 09175045166 (Alex)
Fax # : (+632) 4530071
E-Mail : info[at]juancarlothecaterer.com