Situated in Aurora Boulevard in New Manila, Quezon City, Mount Carmel is another church favored for weddings. With its large, ornate array of stained glass windows, the church is romantic as it is serene.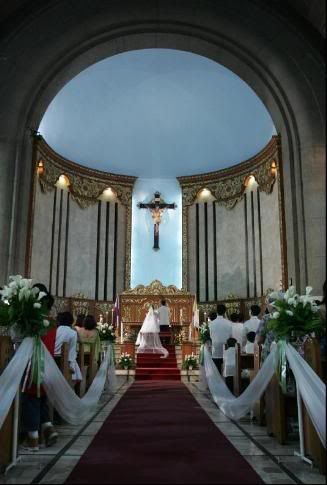 Just a short history of the church, On Dec. 30, 1954, the cornerstone for the church was blessed by Archbishop Vagnozzi in the presence of Archbishop Rufino Santos of the Archdiocese of Manila, Most Reverend Marie-Eugene, vicar general of the Order of the Discalced Carmelites and Ms Mila Magsaysay, representing her father President Ramon Magsaysay. This cornerstone is located just below the main altar.
Ten years after the laying of the cornerstone, Rufino Cardinal Santos, archbishop of Manila, formally consecrated the shrine to Our Lady of Mt. Carmel. A few years later, the shrine was separated from the Immaculate Concepcion Parish, with Fr. Paul Sullivan being installed as its first parish priest. Another pioneer in the development of the parish is Fr. Tom Shanahan who was involved in the work on the shrine community center.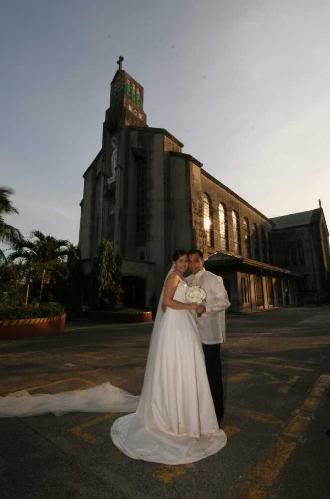 Possible Venues for Reception:
Mt. Carmel Function Hall – fully airconditioned
Gazebo Royale
Oasis Manila
Solea Garden
Wedding Requirements
CENOMAR – Certificate of No Marriage from the NSO (for non-civilly and civilly married).
Marriage Contract from NSO (if civilly married)
Birth Certificate of Bride and Groom
Certificate of Baptism (Bride and Groom) with parish seal and marked "For Marriage Purposes".
Certificate of Confirmation (Bride and Groom) with parish seal and marked "For Marriage Purposes".
Permission from the Parish Priest of the Bride and Groom.
Publication of Marriage Banns in the parishes of the Bride and Groom for 3 consecutive Saturdays.
Attendance of Pre-Cana or Pre-Marriage Counselling (2nd & 4th Saturday of the month at Mt. Carmel).
ID Pictures and Residence Certificates.
List of Primary Sponsors
Canonical Interview with a priest at Mt. Carmel (Tuesdays and Fridays) with all the requirements above.
A letter of delegation from the parish office for couples who have their own officiating priest.
FOR MORE INFORMATION CONTACT:
Our Lady of Carmel Shrine
Address: Broadway, New Manila Quezon City
Tel Nos.: 348-4291,724.5938,725-1508
Website: http://carmelevents.weebly.com/index.html