National Shrine of Sacred Heart of Jesus
Located right smack at the central business district of Makati, The National Shrine of the Sacred Heart is an artistic fusion of post modern and classic interiors thoughtfully designed to complement elegance, and accentuate comfort with solemnity of worship. It's a perfect place to take your solemn vow.
It is one of the underrated church in the metro but it is actually one of the most beautiful churches in Metro Manila. It is fully airconditioned and has ample parking space. And since it is in Makati area, finding a suitable venue and hotel is not a breeze.
Pastor/Rector: Msgr. Jose Clemente F. Ignacio
Attached Priests:
Msgr. Agerico L. Galang
Fr. Max A. Ocampo
Established: January 11, 1976
District: Makati
Vicariate: Saints Peter and Paul
Vicar Forane: Fr. Bernardo Carpio, SDB
Feastday: Sunday after the Feast of the Sacred Heart
Titular: Sacred Heart of Jesus
Immediate Preceding Pastor:
Most Rev. Crisostomo A. Yalung, DD
1999-11/2001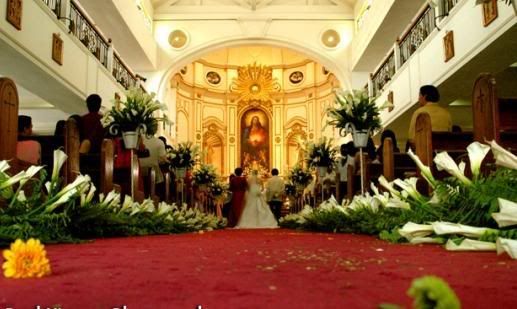 Reviews:
"We love this church. Not too big, not too small. It's cute! The ambience of the church is a reflection of our personalities–very homey and comfortable, very personal. And it's also the way we want our ceremony to be–very contained and intimate." Chris & Ivy
"Church- maganda ang altar, ok ang sound system. Naging solemn yung mass. Staff-Very organized ang staff ng church. Una nmin na booked, Dec 23 but naging madali lang smen ang pag rebook to Sept 30. We started on time kaya we had ample time for the picture taking. Yung choir, k lang, nothing special sa pagkanta nila, though maayos naman. I remember narinig ko yung bridal song at the start pro after nun, nabaling atensyon ko sa mga tao at especially ke hubby!" — Ernest & Chelle
'We had an intimate wedding, with 150 guests it seemed like the church was filled up when i marched down the aisle. They opened the aircon 1 hour before the ceremony kaya even if 2pm yung wedding eh comfortable naman kaming lahat dahil very cool. Altar is very nice and came out really nice too sa mga pics. " — Ariel & Roanne
FOR INQUIRIES:
NATIONAL SHRINE OF THE SACRED HEART OF JESUS
Address: 4 Sacred Heart St. (formerly Dao St.), San Antonio Village, Makati City
Tel: 895-6331; 899-6107
Telefax: 899-6340