The Palms Country Club continually redefines club lifestyle, with its commitment to being your very own private enclave – the perfect oasis for friends, family, and business associates, to relax, unwind and enjoy life.
With first class facilities, superb dining and club management committed to bring you exceptional service, The Palms is the perfect venue for both business and leisure. A valuable lifestyle investment, The Palms offers you a club community like no other – one you and your family will be happy to enjoy for years to come.
Grand Ballroom is popular venue for large functions, The Palms' Grand ballroom can fit up to 300 guests – perfect for your company's latest product launch or weddings or your daughter's formal debut.
Reviews of The Palms Country Club:
"Food is our top priority in the budget so choosing Palms as our reception venue was a no brainer for us. Ann Zablan made sure to
address every detail. We got everything we requested and more!"– John & Joyce
"Sobrang bait ni Ms Anne. We are friends right now. Her staff assisted me all the time during the reception. Ready sila sa lahat ng needs namin. The food was great! Lahat masarap! no exception! Dun naman talaga sila kilala… most guests that weve talked to after the wedding say nothing but praises to the food that was served. Worth every penny talaga!" –Ethel & Tupe
"Remember the invitation where I saw St. James? It was the same online invitation that led us to The Palms. We wanted a reception venue that is close to the church, knowing that in December traffic can be a problem. Again we asked my MIL and SILs to check out Palms for us. They loved it too. So my SIL asked for the endorsement from her friend who is a member of the club. We never wanted an outdoor reception, it was never an option. So we got the grand ballroom of Palms. I've read rave reviews about the food at Palms, and when we had our food tasting I was raving about it too! The food was great, not so-so, not okay…but great! The food wasn't the only thing great about Palms, we love the place itself. Everything was tastefully done. The furnishing and décor has class. It can be compared to a ballroom of a posh hotel." — Bong & Jacq
"the food was delicious and overflowing! they also have menus which do not carry the usual stuff that are served by known caterers." –Joseph & Leah
"Anne is very efficient and easy to talk to. It wasn't hard to deal with her at all! The Palms has been known to serve very good food that is why Gin and I didn't have second thoughts on having our reception there. Yes, their wedding packages are kind of pricey but it's worth every penny. Our guests loved the food and were awed by the amount that was served in the buffet table. It was overflowing! The bad thing was though Gin and I weren't able to eat as much because we had to be on our toes all the time. As soon as we got to The Palms right after the ceremony, there was a welcoming committee (together with Anne and the GM of The Palms) who even had drinks served as soon as we got out of the bridal car. There was even a girl helping me
carry the train of my gown while we were having our pictorials. Great service!" — Bunnie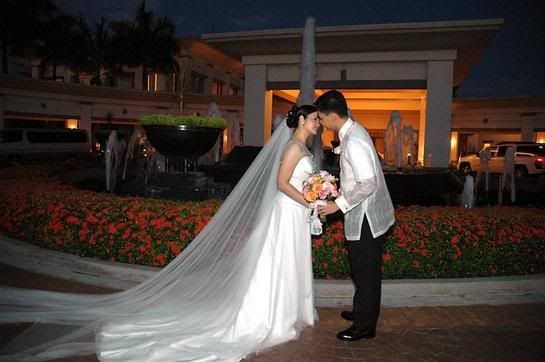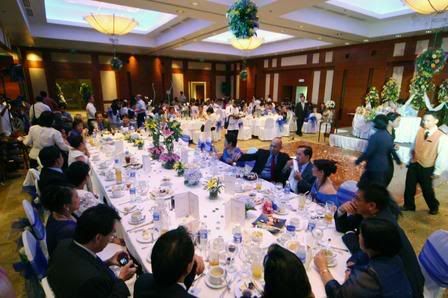 CONTACT INFORMATION:
1410 Laguna Heights Drive
Filinvest Corporate City
Alabang, Muntinlupa City 1781
telephone : (632) 771. 7171
fax : (632) 771. 4861 and 771. 4864
email : membership@thepalmsclub.com
website:http://www.thepalmsclub.com/